What is MoodBoardly?
AI-Powered Mood Board Creator
MoodBoardly's AI-Powered Mood Board Creator is your key to unlocking a world of creative possibilities. Whether you're an interior designer, fashion enthusiast, or planning an event, this innovative tool empowers you to effortlessly craft mood boards tailored to your unique vision with the convenience of one-click magic. Select your style, experiment with colors, add your wishes, and watch as our AI seamlessly assembles your inspiration into stunning visual boards.
Mood Board Editor
The Mood Board Editor not only allows you to fine-tune your mood boards but also assists you in creating a practical shopping list, featuring the items listed on your board. Whether you're designing a space or planning a wedding, MoodBoardly is your creative companion.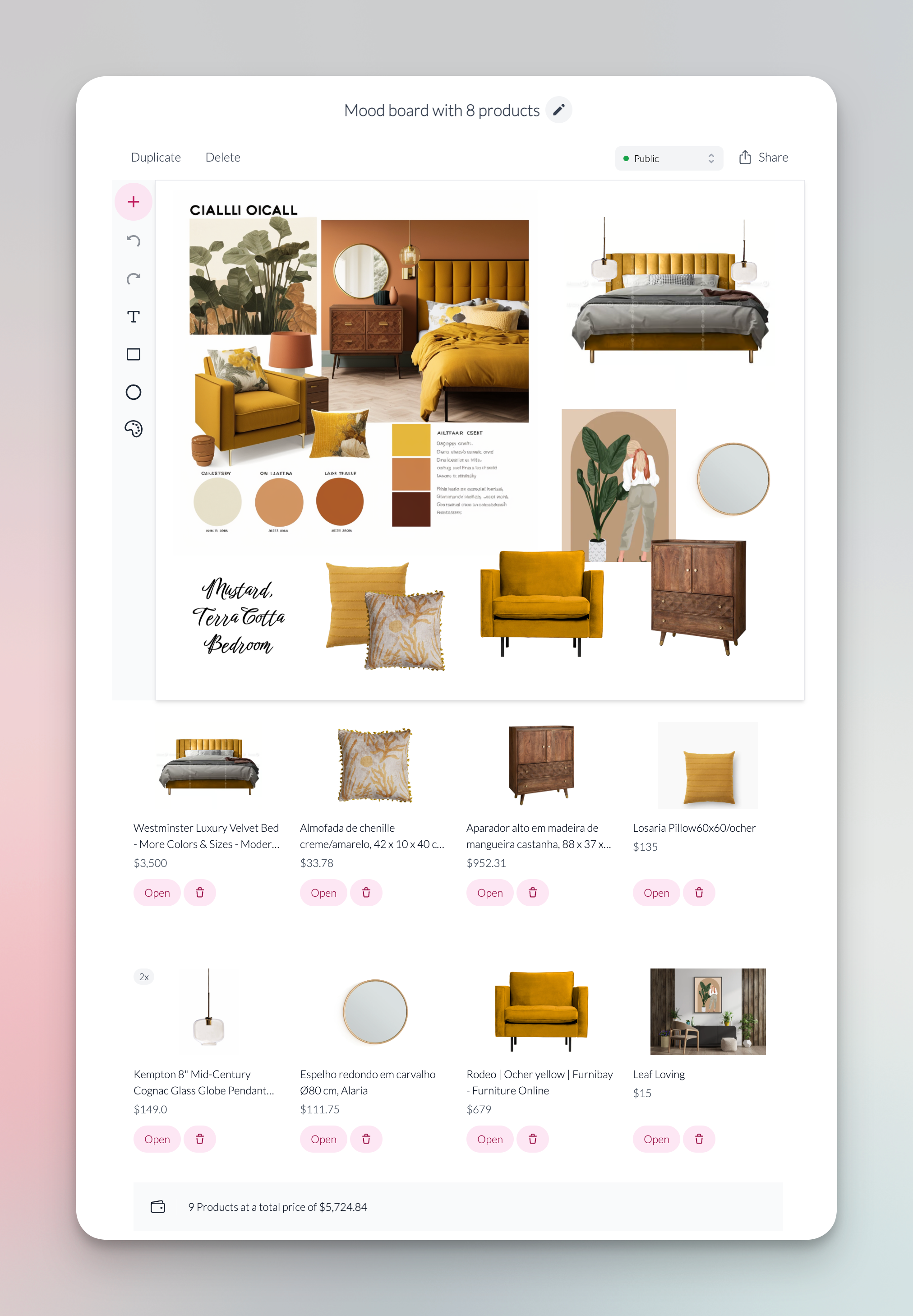 Is there a cost to use MoodBoardly?
We offer two types of subscription plans to accommodate your needs. Our free plan allows you to use the Mood Board Editor for an initial 14-day period. The AI-Powered Mood Board Creator is exclusively available to our paid users.
To find in-depth pricing details, please visit our
pricing page
.
How do I get started with MoodBoardly?
To begin your creative journey with MoodBoardly, simply visit our website, sign up for an account, and start crafting your mood boards with our user-friendly mood board editor. For access to the AI-Powered Mood Board Creator, explore our subscription options.
What can I use MoodBoardly for?
MoodBoardly is versatile and can be used for a wide range of creative projects, including
interior design, fashion, weddings, food photography, branding, and more
.
Is MoodBoardly easy to use?
Yes, MoodBoardly is designed to be user-friendly. You can create mood boards with just a few clicks, even if you have no prior design experience.
Does MoodBoardly offer AI-generated mood boards?
Can I customize my mood boards?
Absolutely! The
Mood Board Editor of MoodBoardly allows you to customize your mood boards
with text, headlines, colors, remove background from pictures and more. Learn more about the functions of our Mood Board Editor here.
How do I cancel my subscription, and what is the cancellation policy?
To cancel your subscription, go to your Profile and navigate to "Billing and Profile." There, you can manage or cancel your subscription.
Please note that we follow the
standard Stripe subscription cancellation policy
, which allows you to cancel at any time, and you won't be billed for the following month.
You can cancel your subscription at any time during your billing cycle
. When you initiate a cancellation, your subscription will be terminated immediately, and you won't be charged for the following billing cycle. This means that
if you cancel your subscription before the next billing date, you will not incur any additional charges
.
After canceling your subscription, you will generally retain access to the subscribed services until the end of the current billing period. This ensures that you can continue to use the service you've paid for until your subscription officially ends.
How can I find products for my mood boards?
Click on the button "Find similar products"
and find similar products to the featured ones on your AI created mood board. making it easy to bring your design concepts to life.
What types of design styles can I create mood boards for?
MoodBoardly supports a wide range of design styles, including contemporary, modern, traditional, rustic, and many more.
Is there a shopping list feature?
Certainly! MoodBoardly offers an automatic shopping list feature. The Mood Board Editor seamlessly converts your mood board into a practical shopping list, displaying the listed items along with the total amount at the end.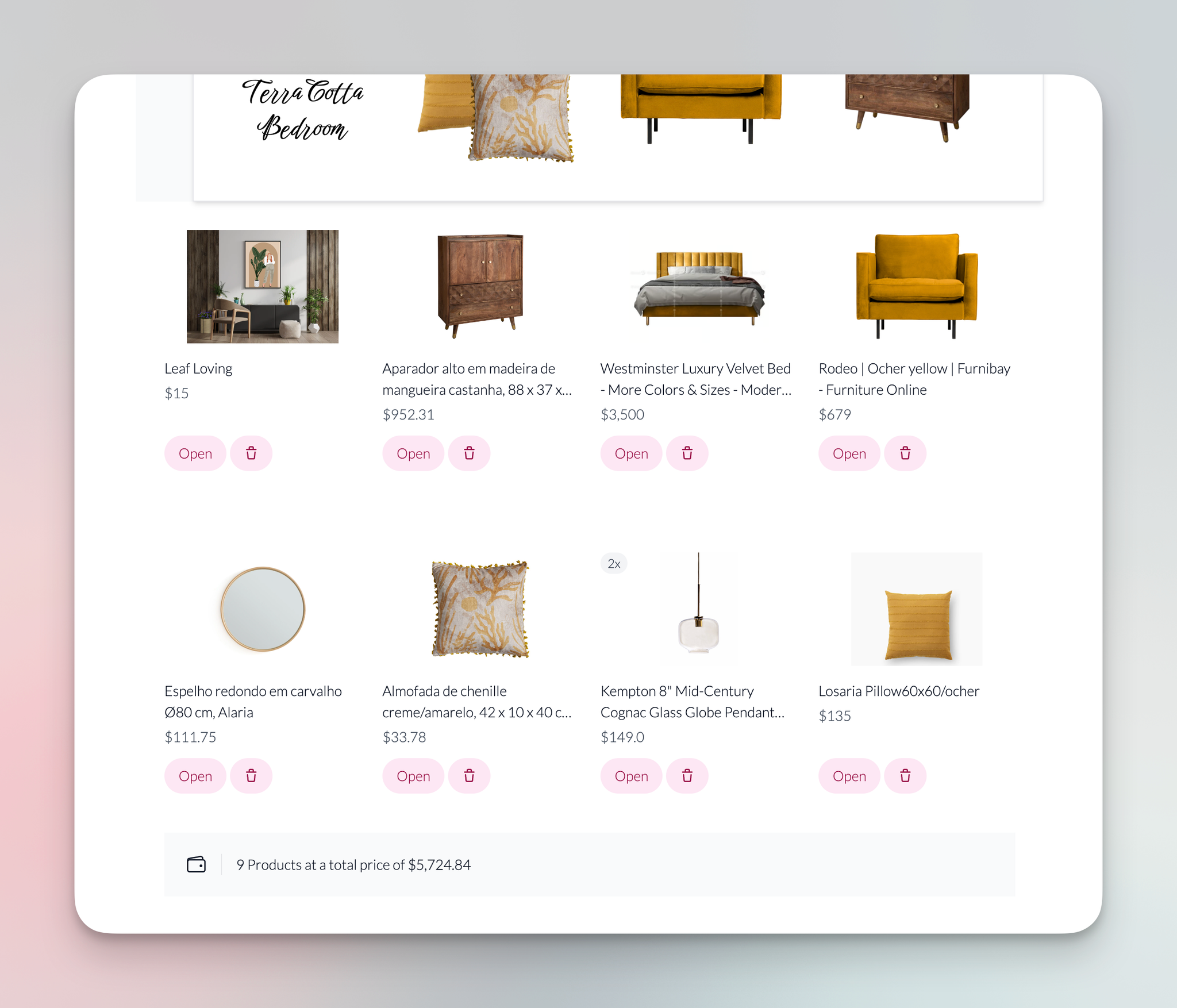 Is MoodBoardly suitable for professionals and beginners alike?
Yes, MoodBoardly caters to both professionals and beginners, providing tools and features that accommodate various skill levels.
Is MoodBoardly accessible on different devices?
MoodBoardly is a web-based platform and can be accessed on desktop computers, laptops, tablets, and smartphones.
How can I share my mood boards with others?
You can easily share your mood boards with friends, family, or clients by using MoodBoardly's sharing features.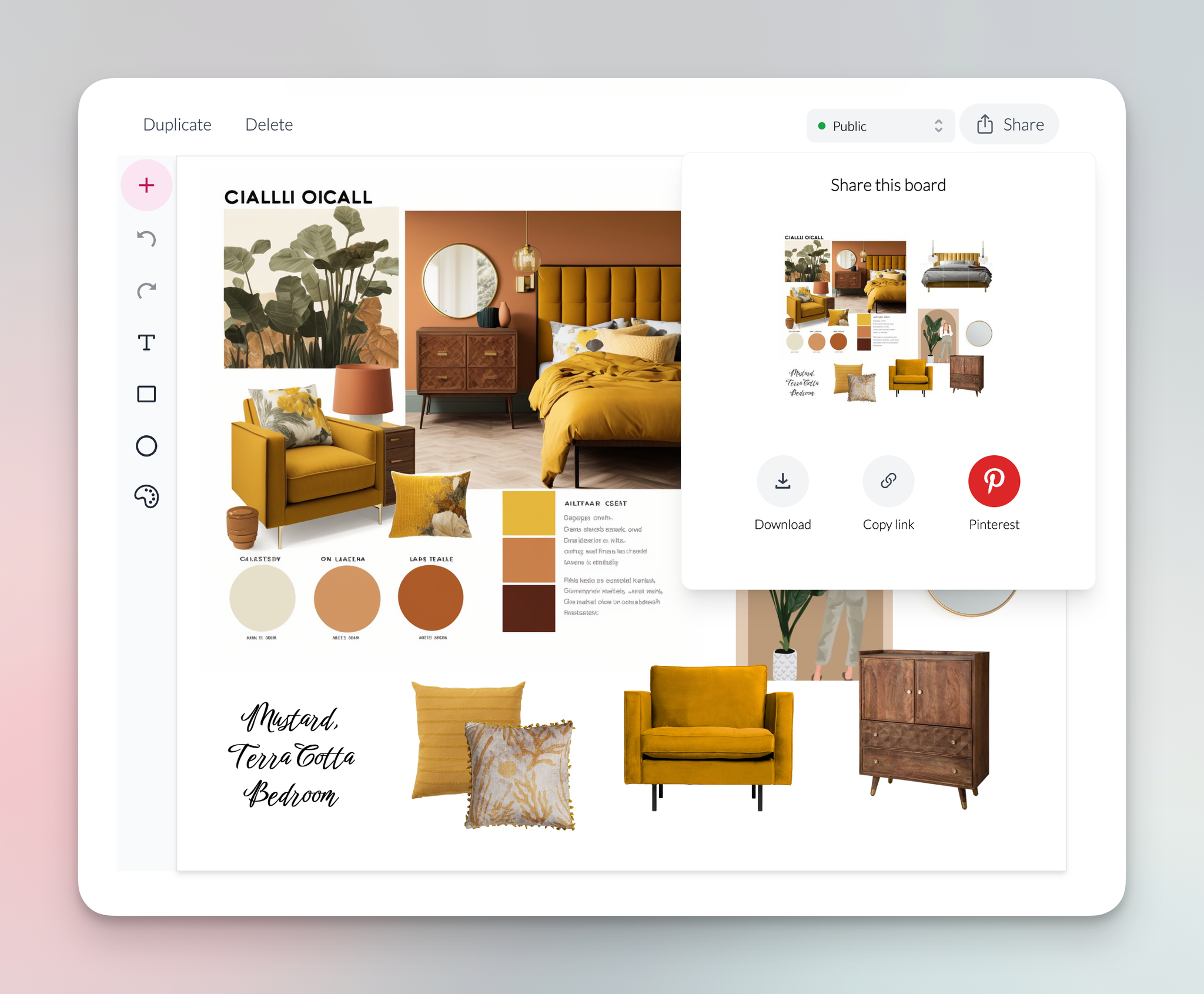 Need help?
MoodBoardly University
Learn more about the AI-Powered Mood Board Creator and the Mood Board Editor:
Learn about the AI-Powered Mood Board Creator
How to Use the Mood Board Editor